Alors, qu'est-ce que j'ai fait depuis quelques semaines ? Ben, pas super beaucoup de choses en fait...
So... What have I made since a few weeks? Well, not much in fact...
(Clic sur les photos pour les agrandir /

Click the pictures to enlarge

)
J'ai fait un truc au crochet : ça...
I made that...
Comment ça, vous voyez pas ce que c'est ! Mais faut tout vous dire !

What? How is that you can't figure out what it is? Really?
Pis j'ai fait une tasse en patch et monté façon patch également une broderie qui était déjà réalisée depuis un an ou deux (ben vi, je triche, mais je ne brode presque plus alors...) pour mon amie
Véro
.
Then, I made a teacup pouch and finished a stitching I had made a long time ago (yeah, I cheat a bit, but since I'm not really stitching a lot these days...) for my friend Véro.
Et enfin, j'ai fini de broder mon HalloSAL d'octobre, ma douzième pendouille, un freebie de Lizzie Kate, Don't Bug Me.
And I finally finished my HalloSAL ornement for October, the last one, it's a freebie of Lizzie Kate, Don't Bug Me.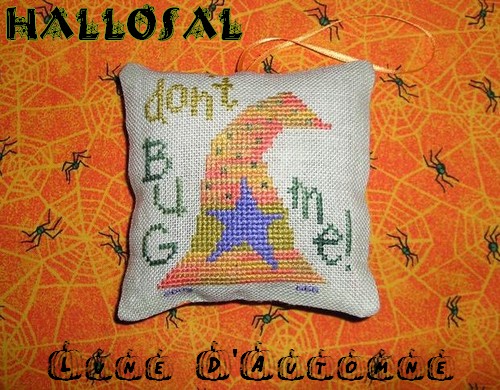 A propos, voici mon coin Automne/Halloween avec mon arbre fabriqué à partir de branches que j'ai ramassées en bas de chez moi...

By the way, here is the place where I put my Halloween and Autumn thingies...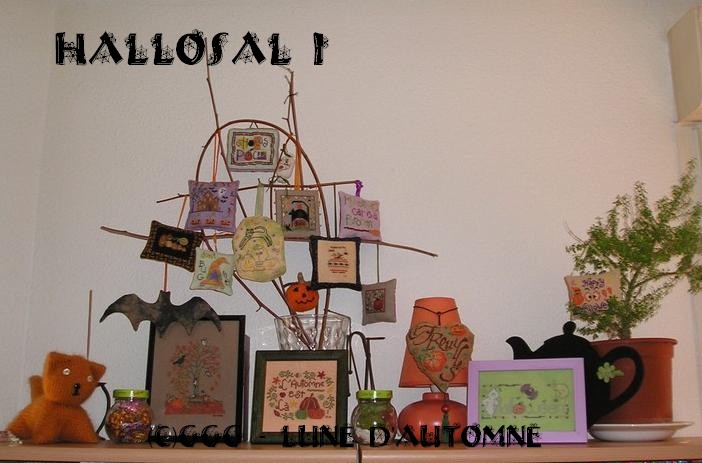 Bon ben, c'est tout... pour le moment, je suis en train d'essayer de me faire un bonnet au crochet, j'ai déjà fait et défait deux modèles différents... le premier, je m'étais trompée et le deuxième, le résultat ne me plaisait pas... ça faisait un peu la version bonnet du gilet-serpillère du Père Noël est une ordure, voyez... ahem !

So that's all now... I'm trying to crochet a hat, I did and undid already two different with the same yarn I'm using now because I made mistakes on the first one and the second... well, I was not pleased with it...